AUSTRALIA'S BIGGEST ALFRESCO BEERFEST IS BACK!
Important Details
Dates: Sat 11 – Sun 12 November.
Location: Fremantle Esplanade.
Tickets: From $25 + booking fee.
Grab Tickets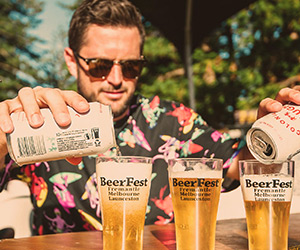 What's it all about?
Experience a showcase of award winning Craft Beers, Ciders, and Spirits as you Stop, Sip & Savour the very best of the west! A collection of the best WA based breweries, cideries & gourmet food producers, with limited edition brews galore.
What are the dates for the 2016 Freo Beerfest
Saturday 11 – Sunday 12 November, 2017
What are Festival times?
Please note the tickets are not interchangeable so please buy the correct date
Saturday Session: 1 PM – 9 PM
Sunday: 12 PM – 8 PM
Where is the festival?
Esplanade Park, Fremantle. See location on Google Maps.
Where can I buy my ticket?
Tickets are available now via eventbrite.
How much are tickets?
Tickets are $25 for a day pass, with additional ticket types available.
What do I get for the price of my ticket?
Your General Admission Ticket includes:
1:1 interaction with the largest range of WA Craft Beers, Ciders, Rum, Whisky and more, along with an exclusive hands-on experience with WA producers!
FREE, reusable and dishwasher safe Brewart Festival cup.
3 x FREE 100ml tasting vouchers
Little Creatures LIVE (Look out for entertainment schedule closer to the festival date)
Master classes, live demonstrations and tastings
Live music
Live comedy
Kids entertainment and activities
What does the V.I.P. Ticket include?
Your VIP Area presented by Esplanade Hotel Fremantle Ticket includes:
Access to the exclusive VIP Area presented by Esplanade Hotel Fremantle
Cocktail on arrival
Exclusive choice of Beer and Wine – First 3 drinks are complimentary
All day complimentary catering matched to your brews
Private amenities
Private bar and lounge
Private Service
Reusable and dishwasher safe Brewart Festival cup
Who will be there?
BREWERS/ CIDERMAKERS/ DISTILLERS/ COCKTAIL MAKERS/ WINE PRODUCERS /STREET FOOD
The Fremantle Craft Beer and Food Festival hosts the largest and most comprehensive range of West Australian Craft Brewers and Cider-makers Australia-wide, with over 350 Brews, Ciders, Spirits, Cocktails, Wine to sample.
Expect more announcements as we get closer to the festival dates!
How much are the drinks at the festival?
Drinks will vary from $1-$2 for 100ml tastings to $6-$8 for a 285ml pour and will be decided by the stallholders.
Do you accept credit cards?
Credit cards will be accepted at the Front Gate for entrance tickets and at limited stalls.
Are there tokens?
NO Beerfest has no tokens, cash cards or any currency other than Australian dollars. You can use cash and in some cases EFTPOS is available. EFTPOS will be at the gate and 3 x ATMs will be on site.
Can I bring my kids?
Yes, please feel free to bring the entire family along. We do our best to ensure the Festival is family friendly. Kids under 17 have free entry when accompanied by parents.
Will there be Entertainment
Yes, there will be live music, comedy and other forms of entertainment throughout the entire weekend. We will announce things as we get closer to the festival date.
Will there be any food and non-alcoholic beverages available?
YES!! There will be a variety of amazing food, water, juices and soft drinks available for purchase onsite. Complimentary water stations will also be provided.
What and When are the Master-classes
Masterclasses offer an exciting up-close and personal way for beer experts to share their knowledge, experience and passion for all things craft beer. Our master-classes or as we like to call them beer education sessions will take place every hour throughout the each Festival day, finishing at approximately 7 PM.
These sessions include, but are not limited
Master Brewer Forums
Beer/Food matching
Live Brew demonstrations
Home/Commercial Brewing discussions
Industry experiences
Typically we will announce these early in November.
Where can I park?
Both paid and free parking are available around the festival site. See the Fremantle council's parking guide for the specifics. Don't drink and drive.
Will there Pass Outs?
Yes, the festival goes all day and there is a lot to take in, so you may need a break or two to catch your breath throughout the weekend.
While you're out and about, we recommend you take some time to experience the sites and sounds, culture and arts of Fremantle. For more ideas of what to do in Fremantle, check out this Things To Do guide.
Smoking Policy
The Freo Beerfest is a non-smoking Festival. Designated areas will be signposted throughout the site.
Intoxicated Guests
We want to you to have fun, but please do so responsibly for your sake and for ours.
We expect all guests of the Fremantle BeerFest to drink responsibly and ensure they have a safe, responsible means of transportation before leaving the facility.
Any guest who is intoxicated before entering the event may be denied entry to the facility.
Any guest found intoxicated within the event and causing a disturbance, as determined by management, will be asked to leave the site without refund and may be subject to further consequences.
Can I bring my pet
We love our cuddly friends as much as everyone. However, sometimes our little friends can make people uncomfortable or become a health problem where food is around so we just can't let them on site. If there is a medical need for your pet, please contact us to organize in advance.
Prohibited Items
Prohibited items include, but are not limited to:
Outside alcohol
Bottles
Cans
Outside food/ beverages
Weapons (i.e. knives, pepper spray, stun-guns, any concealed weapons, firearms, etc.)
Illegal drugs
Chemicals
Fireworks, smoke bombs, etc.
Backpacks, suitcases, large beach bags, etc.
Skateboards, roller skates, ice skates, use of roller shoes, etc.
Unapproved pamphlets, handouts, advertisements, etc.
Other items as determined by facility management
Terms and conditions of entry
Event management reserves the right to handle each occurrence on a case by case basis. Depending on the item, the guest may either be asked to remove the item from the facility or dispose of the item, or may be ejected from the facility.
All bags, jackets, and guests are subject to search upon entering the event.
Items which have varying policies include: cameras, video/audio recording equipment, and signs/ flags/ banners/ posters.
PLEASE FOLLOW THE ADVICE ABOVE TO ENSURE EVERYONE HAS A FUN & SAFE DAY!
Travel Advice
Stay Safe - Don't Drink and Drive
HOW TO GET THERE
For a full schedule for anywhere around Perth & surrounding suburbs please visit 
transperth.wa.gov.au
 and click on journey planner.
From Northbridge/Perth Central
Perth Stn Platform 7 to Fremantle Park via train and bus | 12:00 PM – 12:39 PM
Travel time: 39 mins – Total walking: 330 metres
Start – Leave Perth Stn Platform 7
(Stop number 99007) 12:00pm
Train-  Catch Train Fremantle Line, Perth Stn Platform 7
(Stop Number 99007) to Fremantle Stn Platform 2 (Stop Number 99352)
12:00pm – 12:28pm (28 mins)
Walk – Walk To Phillimore St Fremantle Stn
(Stop Number 10441)
About 3 mins (66 metres)
Bus – Catch Bus Red Cat, Phillimore St / Market St
(Stop Number 10441) to Ord St Fremantle Park (Stop Number 11020)
12:31pm – 12:35pm (4 mins) (estimated time only)
Walk
About 4 mins (264 metres)
Arrive Fremantle Park
12:39pm
RETURN
Fremantle Park to Perth Station via train | 9:39 PM – 10:25 PM
Travel time: 46 mins – Total walking: 1155 metres
Start – Leave Fremantle Park
09:39pm
Walk – Walk To Fremantle Stn Platform 1
(Stop Number 99351)
About 17 mins (1122 metres)
Train – Catch Train Fremantle Line, Fremantle Stn Platform 1
(Stop Number 99351) to Perth Stn Platform 8 (Stop Number 99908)
09:56pm – 10:24pm (28 mins)
Walk – Walk
About 1 min (33 metres)
End – Arrive Perth Station
10:25pm
FROM EAST PERTH
Victoria Park Transfer Station to Fremantle Park via bus | 12:25 PM – 1:12 PM
Travel time: 47 mins – Total walking: 297 metres
Start – Leave Victoria Park Transfer Station
(Stop number 10143) 12:25pm
Bus – Catch Bus 910, Victoria Park Transfer Station
(Stop Number 10143) to Queen Victoria St After James St (Stop Number 11147)
12:25pm – 01:08pm (43 mins)
Walk – Walk
About 4 mins (297 metres)
End – Arrive Fremantle Park
01:12pm
RETURN
Leave Fremantle Park
09:09pm
Walk – Walk To Queen Victoria St Before Burt St
(Stop Number 10286)
About 9 mins (627 metres)
Bus – Catch Bus 910, Queen Victoria St Before Burt St
(Stop Number 10286) to St Georges Tce / Victoria Av (Stop Number 10074)
09:18pm – 09:53pm (35 mins) (estimated time only)
End – Arrive St Georges Tce / Victoria Av
(Stop number 10074)
09:53pm
FROM SCARBOROUGH
Walk – Walk To Scarborough Beach Rd After Ellen Stirling Bvd
(Stop Number 11462)
About 5 mins (231 metres)
Bus – Catch Bus 999, Innaloo Shopping Centre
(Stop Number 11462) to Queen Victoria St After James St (Stop Number 11147)
01:07pm – 02:01pm (54 mins) (estimated time only)
Walk – Walk
About 4 mins (297 metres)
End – Arrive Fremantle Park
02:05pm
RETURN
Leave Fremantle Park
09:23pm
Walk – Walk To High St After Ord St
(Stop Number 10878)
About 9 mins (594 metres)
Bus – Catch Bus 502, Monument Hill War Memorial
(Stop Number 10878) to Bull Creek Station (Stop Number 23706)
09:32pm – 09:54pm (22 mins) (estimated time only)
Walk – Walk To Bull Creek Stn Platform 1
(Stop Number 99641)
About 3 mins (33 metres)
Train – Catch Train Mandurah Line, Bull Creek Stn Platform 1
(Stop Number 99641) to Perth Underground Stn Platform 1 (Stop Number 99601)
09:59pm – 10:10pm (11 mins)
Train – Catch Train Joondalup Line, Perth Underground Stn Platform 1
(Stop Number 99601) to Glendalough Stn Platform 2 (Stop Number 99812)
10:15pm – 10:22pm (7 mins)
Bus – Catch Bus 990, Glendalough Station
(Stop Number 11455) to Scarborough Beach Bus Station (Stop Number 27661)
10:26pm – 10:40pm (14 mins)
End – Arrive Scarborough Beach Bus Station
(Stop number 27661) 10:40pm
FROM ROCKINGHAM
Rockingham Station to Fremantle Park via bus | 12:47 PM – 1:49 PM
Travel time: 62 mins – Total walking: 1023 metres
Start – Leave Rockingham Station
(Stop number 23783)
12:47pm
Bus – Catch Bus 548, Rockingham Station
(Stop Number 23783) to South Tce – Fremantle Markets (Stop Number 10468)
12:47pm – 01:34pm (47 mins)
Walk – Walk
About 15 mins (1023 metres)
End – Arrive Fremantle Park
01:49pm
RETURN
Fremantle Park to Dixon Rd After Arkwright Rd via bus | 9:51 PM – 10:46 PM
Travel time: 55 mins – Total walking: 396 metres
Start – Leave Fremantle Park
09:51pm
Walk – Walk To Queen Victoria St After James St
(Stop Number 11147)
About 4 mins (297 metres)
Bus – Catch Bus 910, Queen Victoria St After James St
(Stop Number 11147) to Fremantle Station (Stop Number 10428)
09:55pm – 09:58pm (3 mins) (estimated time only)
Walk – Walk To Fremantle Stn Stand 4
(Stop Number 10431)
About 3 mins (99 metres)
Bus – Catch Bus 549, Fremantle Station
(Stop Number 10431) to Dixon Rd After Arkwright Rd (Stop Number 17056)
10:03pm – 10:46pm (43 mins)
End – Arrive Dixon Rd After Arkwright Rd
(Stop number 17056)
10:46pm